The first scientific article based on data from the LIFE TACKLE project was published on the Journal of Environmental Planning and Management
"Institutional pressures on the adoption of environmental practices: a focus on European professional football": this is the title of the paper written by Tiberio Daddi, Niccolò Maria Todaro, Fabio Iraldo and Marco Frey from the SuM (Sustainability Management) Laboratory of the Institute of Management at Sant'Anna School of Advanced Studies, Coordinator of the LIFE TACKLE project.
The aim of this article is to analyse the dynamics of environmental management in the football industry through the lens of institutional theory, examining the influence of institutional pressures on the adoption of proactive environmental practices (both governance and operational) among football organisations in Europe.
In addition to contributing to the improvement of the environmental management in stadiums at the operational level, the TACKLE project is therefore increasing the knowledge of the dynamics between professional football and environmental protection in the academic field, and contributing to the sport sustainability literature.
The full article is available here:
https://www.tandfonline.com/doi/full/10.1080/09640568.2021.1927679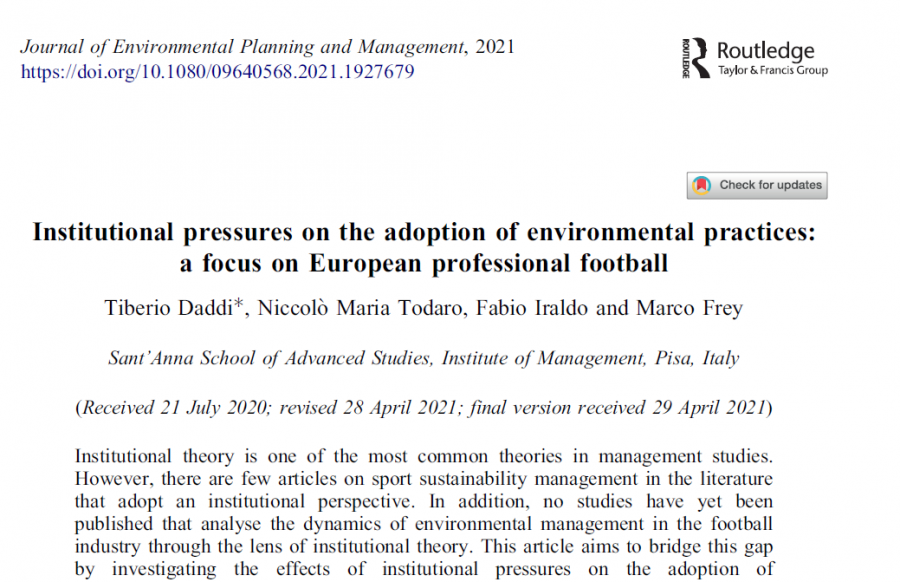 Other articles