German football veteran Ewald Lienen is convinced that football is political and bears social responsibility. Today, the technical director of FC St. Pauli is committed to climate protection, and not only on the pitch.
EURACTIV Germany reports.
Lienen shows like none other in Germany that football and social commitment go together. "I've always been a rebel" is how the professional footballer titled his biography.
Since the beginning of his career, Lienen has used his celebrity status to draw attention to societal issues – right up until today. Lienen, now 66, fights for climate protection. In his private life, he leads the "Parents for Future" campaign and professionally, he orientates his club towards sustainability.
"Football is the number one sport, highly relevant to society and therefore by definition political," Lienen said in an interview with EURACTIV. Ignoring this connection and declaring football apolitical is "one of the top ten most stupid statements you can make."
Not everyone sees it that way: Football should take on an "apolitical role," says RB Leipzig sports director Ralf Rangnick, for example.
A Rebel among Rebels
Lienen and St. Pauli seem to be made for each other because the second division team and its fans like to show their colours. When a large number of people fled to Germany in 2015 and society seemed divided between a welcoming culture and one of exclusion, the club founded a "Refugees Welcome" working group to support those who had fled.
Their jerseys are adorned with rainbows, the sign of tolerance towards the LGBTQI community, and in the stands, banners of the antifascist movement are often waved.
As of January, FC St. Pauli can even be found on the website of the British anti-terrorist police: the club logo, the skull and crossbones flag in pirate style, is listed as a symbol of a left-wing political movement.
Under such circumstances, it was "easier for FC St. Pauli compared to other clubs to gain acceptance among our fans for uncomfortable measures," said Lienen.
These measures included the switch to a deposit system in the stadium in January to avoid plastic waste. Merchandise is also produced in a fair and ecological manner, they say – even if this increases the price of some items.
Good Move
Other measures are anything but unpleasant, such as the guarded bike racks. Here fans can park their bikes without fear of having them stolen.
In general, mobility is one of the biggest causes of CO2 emissions in football, especially during away games. The team travels with Deutsche Bahn, their "official mobility partner," and in DB commercials, encourages fans to do the same.
FC St. Pauli also uses its media reach in other ways to raise awareness for environmental protection, for example in the Twitter campaigns #netzgegenplastik (Web against Plastic) or #waldverbesserer (forest improvement).
Using popularity to do good – that is Lienen's tried-and-true playbook. As technical director, he says his aim is to ensure that St. Pauli lives up to "the exemplary character and charisma of our football."
He readily acknowledges the achievements of other clubs in this area, such as Werder Bremen, Schalke 04, or Mainz 05, but there is still a lot to be done, not only in football but in "all areas of society" and in the economy, where "ruthless profit maximisation has brought us to where we are now."
Shame and Remorse
This is why Lienen is also committed to sustainability outside of football. He joined the climate protection movement "Parents for Future" and organised the "Red Climate Card" campaign. In this campaign, supporters from all over Germany sent red printed postcards to Lienen, like the red cards shown for fouls in football.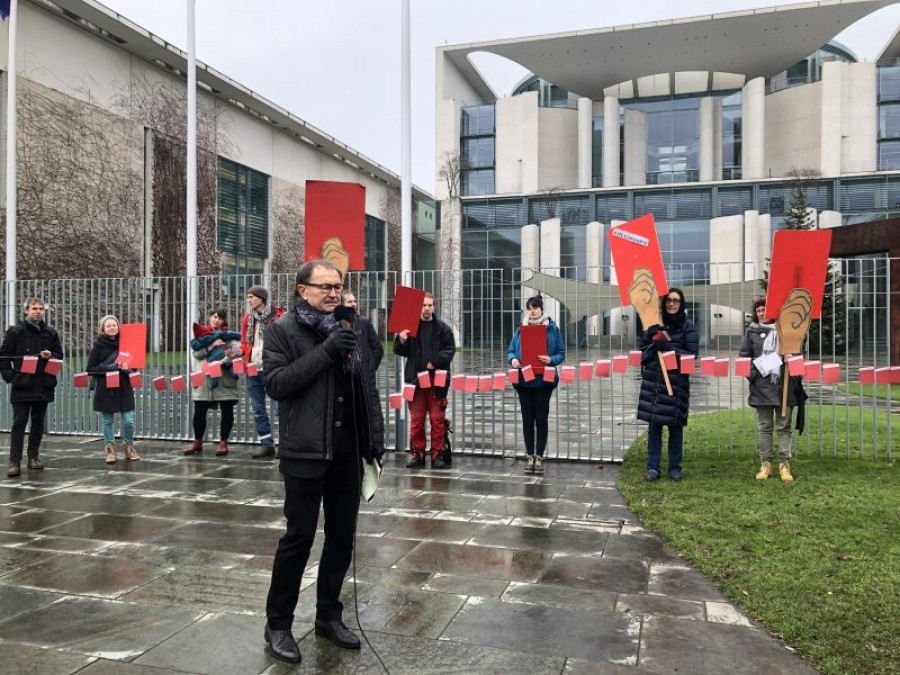 Like a political referee, Lienen handed over these red cards, more than 100,000 in number, to the German government on 12 December. Unsurprisingly, FC St. Pauli supported the campaign. In his speech to the Federal Chancellery, he addressed Angela Merkel: "Chancellor: Please act, Germany must become the world climate champion!"
Lienen's conviction is partly a feeling of guilt. When he thinks about the fact that young environmental activists were ignored and left alone by his generation for a long time, he feels "shame and remorse." Whether he can make up for the missed opportunity through his climate activism, he does not know.
But he'll try. Because "one can only be satisfied when the climate is saved."
[Edited by Zoran Radosavljevic]
Other articles